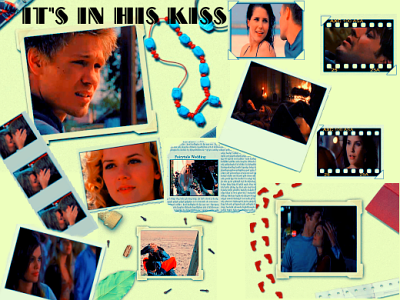 It's In His Kiss
Vid title :
It's In His Kiss
Music by:
Vonda Shepard
Category :
Cross over: One Tree Hill/The O.C.
Vid by:
saltwatergirl
Pairing :
Ryan/Marissa, Lucas/Brooke, Seth/Summer, Nathan/Haley & Lucas/Peyton
Duration & File size:
2:40 minutes, 46.1 MB & 20.5 MB
File Type:
.wmv
Spoilers:
Seasons 1-3 for
One Tree Hill
, Seasons 1-4 for
The OC
Summary:
A tongue in cheek take on the OTPs.
Download: ||
46.1 MB (HQ)
||
20.5 MB standard quality
|| (right click save as)
You were the first person I met here:Ryan & Marissa
They have the most chemistry out of all the couples and there isn't enough Ryan/Marissa going around.
That wasn't a goodbye kiss:Lucas & Brooke
They are like one those annoying couples who consistently give each other the run around. Sophia's acting is good, so she endured Brooke to me. While CMM's acting, is quite weak, painful & sometimes hilarious.
Don't say I never gave you anything: Nathan & Haley
They ten points for being sweet.
Who were we kidding?:Seth & Summer
They are so cute and fun to watch. I added some Summer/Zack because I
really
like Michael Cassidy. Whenever I listen to my Dashboard & Warhols, I will forever think of Seth Cohen &
The OC
I want 'us':Lucas & Peyton
Even though I favour Lucas/Brooke, I have a soft spot for Luc & Peyton.
The feel & tech
With this vid I had to edit footage from two different shows and make it seem like one show. Since there isn't much difference in the colouring between the shows, I was able to achieve seamless (I would like to think) uniformity. I played around with parallels between Nathan/Haley & Seth/Summer. And Lucas/Brooke to Ryan/Marissa. This vid is intentionally literal to a degree.
It's In His Kiss
Does he love me
I wanna know
How can I tell if he loves me so?
(is it in his eyes? ) oh no,
You'll be deceived
(is it in his eyes? ) oh no,
He'll make believe
If you wanna know
If he loves you so
It's in his kiss

(or is it in his face? ) oh, no
It's just his charm
(in his warm embrace? ) oh, no
That's just his arms
If you wanna know
If he loves you so
It's in his kiss
Kiss him and squeeze him tight
And find out what you wanna know
If it's love, if it really is
It's there in his kiss
(about the way he acts? ) oh, no
That's not the way
And you're not listening to all that I say If you wanna know
If he loves you so
It's in his kiss

ETA: Oops! I corrected the file name in the small file. :)
Current Mood:
content
Current Music: Better-Dashboard Confessional